Happy weekend, everyone! I'm starting the day off with my NYFW AW19 runway shows recap! Today I'll be discussing each show's theme and trends where I had the pleasure of attending this season. This was my sixth season going to New York Fashion Week - only three years which is nothing… BUT I am definitely humbled from this season's experiences and opportunities as this has been the most successful fashion week by far, for me! I have a long way to go, but am extremely thankful for everything as every passing season teaches me something, and I learn and grow in the fashion industry, amidst while making new friends/connections and expanding my network. All in all, I've worked very hard to get to where I'm at, and it is such a pleasure to reflect and see how far I've come. I'm still just a Midwestern girl at heart! (Okay, okay… with maybe a little New York attitude now HA HA, kidding!)
I always love kicking off NYFW with Laurence & Chico. The duo's collections are always over-the-top with outrageous styling and a touch of humor. Not to mention the wonderfully crafted pieces, this season's theme was all on the culture and beauty of Thailand! The result — traditional Thai silhouettes reinterpreted with bold, rich colors, intricate beading and embroidery. Exaggerated volume, beautiful textural embellishments and richly colored, seasonal fabrics and prints were woven into the collection. Once you take a deeper look into the individual pieces and styles, you'll discover the brand's overall theme: Whimsical, fun, and that it knows how to take itself not so seriously in a very serious world.
Kate Spade New York delivered a refreshing lineup that veered away from its signature aesthetic. Electric colors of yellow, emerald and burgundy's, with plenty of animal prints and a hint of the 70's made up most of the new look. I loved the grown-up approach from its signature girly brand with sleek coats, pantsuits, shirt dresses and wrap dresses. The smattering of motifs that peppered the lineup, from coats and billowy dresses to accessories including cheetah prints on croc-embossed bags and turbans were the icing on the cake. I truly adored the double-bag situation along with the little hint of sparkle, from the tights to the nail art, that paid a subtle homage to the late Kate Spade. A definite lasting touch and quite sentimental. A truly stellar collection!
The Son Jung Wan Fall-Winter 2019 collection was inspired by the "romantic mood of retro art and culture." Son's collection featured mixed faux fur, bold prints, sequins, velvet, ruffles, and embroideries in the bold colors to create a romantic mood full of playfulness. The color palette boasted a combination of bold, dark, and pastel hues. Bold, vibrant colors included orange pepper, placid blue, sulphur, and spring crocus; light pastel colors included harbor gray and potpourri; the addition of dark colors such as adobe, windsor Wine, and peacock created a uniqueness to the visual feast that was the collection. Great examples of this retro glam look were the sequin dresses and striking outerwear towards the finale of the show.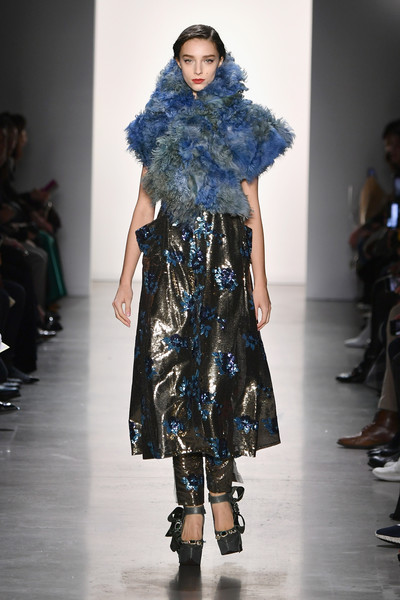 Concept Korea, an initiative that celebrates young local designers on an international level, through support from the Korean government. Chungchung Lee, a Central Saint Martins graduate and the founder of LIE, showed tailored prêt-à-porter, while brothers Kevin and Terrence Kim (the duo behind IISE) reinterpreted Korean heritage through contemporary streetwear, with Instagram-famous Luka Sabbat opening the show! First set of photos are LIE, the latter, IISE. As a Korean, I'm proud to share such talent through my platform. Probably one of my highlights every season in New York Fashion Week.
A juxtaposition of eccentric prints and materials Claudia Li's AW19 collection embodies everything the designer loves most. From its flamboyant patterns to its bold and playful color palette, Li's artistic background is prominent in her latest collection. The collection carries a strong sense of singularity, each design feels unique despite the collections recurring fabrics, shapes, and colors. It is the artistic eye combined with a keen knowledge in street style that makes Li a master of craftsmanship and design. I loved the androgynous overall tone playing with Li's new idea of femininity as well as with the perfect masculine combination. Strong accessories played an important role within the collection such as vibrant weaved tassel bags, Mongolian sheep sterling pillow-style bags, and black leather purses.
One of my favorite shows to attend every season, if you are not familiar with Tibi, I would describe the brand as minimalism for the maximalists. Tibi presented us a beautiful color range of deep browns, chalky grays and charcoal blacks combined with lavenders, mints and orangy tones. In true Tibi fashion, the show gave us clean and classic silhouettes with a twist. Tibi revamped powersuits, croc boots, skirts and double-breasted coats, in addition to the revival of the dickie, monochromatic pastels and slides. Top favorite was the ovelapped knitwear on top of some of these looks. Another nice touch was some of the leftover materials from the desingner's studio were accessorized within the hairstyles, which I talk more about the beauty trends of NYFW here.
If I had to use one word to describe Phillip Lim's latest collection, it would be "workdrobe". Opening the show was a classic cosmopolitan chic look of a full-skirted dress with a trench coat on top: sleek, elegant and timeless. The palette of slate greys, navy, black and optic white with the occasional earth tone and dark seafoam was a collection made for the working city girl. Chic and streamlined, the collection was reminiscent of the old Celine collections. The attention to practicality without compromising on style can be seen through the playfulness of the structures and silhouettes; layering belt-cinched jackets and cocoon coats over voluminous skirts and wide-leg trousers, creating the ultimate variety of volume and proportions. Other highlights from the outfits were oversized carryalls tucked under one arm, cinched booties, double strap heels and one pair of rather amazing furry flats.
Sally LaPointe's Fall 2019 drew style references from Elvis' 1968 Comeback Special and applied them to modern day dressing. Strong monochromatic palettes of bronze, ivory, jade, lavender and oxblood, the collection's attention to utilitarian yet feminine details with nods to clean menswear-inspired tailoring and strong silhouettes became a purposeful uniform for the modern woman that exudes confidence, attitude, and sex appeal. Snakeskin and leathers were found throughout and in a wide array of styles and treatments, including as a print on silk jacquard and embossed leather. Highlights: Leather jumpsuit, and stripe-stitched lavender sequin textural dreams,